The Women's Place is happy to resume Ally Facilitations. In order to protect the health and safety of our community members during the COVID-19 pandemic, we will schedule facilitations in a virtual format.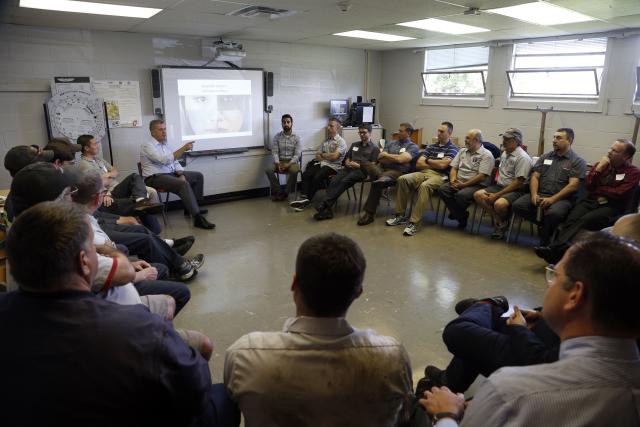 To help create a more equitable environment and advance the professional interests of women faculty and staff and other underrepresented groups in your unit/department, we invite you to participate in the Ohio State Advocates & Allies for Equity initiative. This program is designed to bring men further into the gender equity equation by building a cross-campus network of male Allies who share an understanding of the effects of implicit bias and systematic privilege and to introduce specific practical actions to help men better support women at the university.
Advocates, senior male faculty and administrators who already have a substantial record of supporting women staff and faculty, will lead the program. To begin with, Advocates will lead facilitated conversations or facilitations with other men to expose them to ways of better identifying and behaving as Allies in gender equity. These groups will share evidence-based knowledge, skills and strategies to effect positive personal, departmental and institutional change.
As of fall 2019, more than 450 men have become Allies by attending an Ally facilitation. The following departments/units have hosted Ally facilitations:
| | | |
| --- | --- | --- |
| Aviation Studies | Lima campus | Office of Distance Education and eLearning |
| Engineering Education         | Microbiology | John Glenn College of Public Affairs |
| Earth Sciences | Marion campus | The Ohio State University Airport |
| University Libraries    | CFAES   | Fisher College of Business |
| Wooster campus | Mansfield campus | Computer Science and Engineering |
| Newark campus | University Marketing         | Mechanical & Aerospace Engineering |
| Radiology Oncology | Emergency Medicine     | Electrical and Computer Engineering  |
| Anesthesiology | Mathematics | Faculty Development at Nationwide Children's Hospital |
| Family Medicine |   |   |
Get Involved
You can support this initiative by:
Helping to schedule an Ally facilitation in your unit/department. Both men and women can participate by requesting a facilitation.
Becoming an Ally by participating in a facilitation and committing to actions that advance equity and inclusion.
Becoming an Advocate.
Learn more about each of these options below.
How to Request a Facilitation
If you would like your department/unit to participate in helping to change the culture at Ohio State, submit an Ally facilitation request below. Both men and women can participate by requesting a facilitation. The Women's Place will email you within 7 days after you submit your request and guide you through the simple process of scheduling a facilitation for men in your department.
How to Become an Ally
Allies are men willing to identify themselves as allies of women faculty and staff. They become Allies by attending and participating in a facilitated conversation with other men, which is lead by the Advocates. These facilitations will expose the men to evidence-based knowledge, skills and strategies.
After participating in a facilitation, Allies commit to the following actions: to understand the issues, adopt specific approaches and behaviors, and ultimately extend the benefits of privilege and influence to women and underrepresented minorities in their departments/units and beyond.
If you would like to become an Ally, contact womensplace@osu.edu, The Women's Place assistant director.
How to Become an Advocate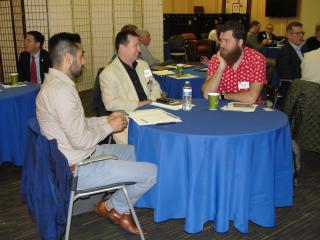 Advocates are committed to increasing their understanding of gender bias and its impact on the academic careers of women. They must attend a two-day workshop to help them begin their work. Then they work with the program advocate coordinators, Tom Gregoire, dean of the College of Social Work and Vish Subramaniam, professor and chair in the College of Engineering, to develop facilitation materials for male faculty who are interested in becoming Allies. Once vetted, an Advocate is expected to offer facilitations regularly and follow up with informal meetings to discuss case studies.
Advocates also work with the Advocates & Allies Advisory Council (AAAC) composed of women staff and faculty. The AAAC's role is to select and advise Advocates, provide feedback to them, and help them understand and remain in touch with the experience of women and underrepresented minorities in our academic climate.
The term of appointment is for 1 year with optional renewable terms. Advocate time and task commitments include the following:
Attend a 1.5 day orientation workshop
Participate in periodic (possibly bi-monthly) meetings with fellow advocates
Lead two separate Ally facilitations, which run about 2 hours each, per academic year
Read supplied materials relevant to campus climate, gender equity, bias, etc.
Create an action plan, which includes reading, reflection and personal actions, to contribute to equity for women at Ohio State
Consult periodically with members of the Advocate and Allies Advisory Council
Advocate for equitable treatment of women faculty and staff on campus
Note that there may not be an opening for new Advocates at this time, but your application will be collected and reviewed when there is an opening.