Critical Difference
Critical Difference (CD) is a scholarship/grant offering program of The Ohio State University offering financial support to students, faculty, and staff. The Women's Place (TWP) and CD are closely connected as TWP is the administrative home of CD. CD is comprised of three funds:
Re-entry Scholarships
Scholarships for students who have interrupted their education due to unforeseen obstacles such as family responsibilities or financial constraints and who are seeking undergraduate, graduate and professional degrees.
Research on Women Grants
Grants for faculty and PhD candidates/terminal master's degree students of all genders to support research that explores women's lives, gender equity, and gender broadly conceptualized.
Professional Development Grants
Professional Development Grants are designed to facilitate professional development and career mobility of faculty, staff, and students.
---
Staff Development Grants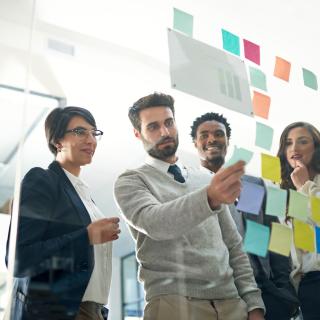 Staff Career Development Grants
Grants are awarded for education and training costs related to the applicant's job and/or career goals. Individual staff can apply for up to $1,250 for registration fees, fees for conferences and seminars, tuition for re-training, books, transportation costs, childcare expenses, and job search/out­placement expenses, for example. Units also can apply for up to $1,750 for groups of 2-10 and $2000 for groups of 11 or more. More information and the application can be found on the HR website.
Staff Manager Development Grants
Staff who manage people or projects can apply for up to $1,000 to attend programs that strengthen their leadership skills and behaviors that support the university' values. The grants are available only for development programs offered by The Ohio State University. More information and the application can be found on the HR website.
---
ASC Staff Professional Development Grants
College of Arts and Sciences (ASC) staff members are encouraged to apply for professional development funding through an ASC Staff Professional Development Grant. All regular (.50-1.00FTE) staff members who have been employed within ASC for at least two years are eligible to apply. The grants are awarded three times an academic year to support professional enrichment or development opportunities and specialized activities that advance or re-focus the development of skills by assisting with costs such as expenses for participation in workshops, conferences, training programs, books, software, and materials and equipment related to the area of professional development. More information and the application can be found on the ASC Staff Advisory Council website.
---
Women & Philanthropy Grants 
Whether you need funding to further current research, explore new discoveries or support innovative programs, Women & Philanthropy may be able to help. All Ohio State faculty and staff are invited to apply for the Women & Philanthropy Grant. Award amounts typically range from $25,000 to $50,000, focusing on areas throughout Ohio State with an emphasis on relevance to Women & Philanthropy's mission and alignment with current or emerging university and community priorities. Typically applications are accepted in January. Learn more.
---
Outreach and Engagement Staff Grants
The Office of Outreach and Engagement offers two grant opportunities for university staff. Both grants are for a maximum of $500 and applications are due in September.
---
University Staff and Faculty Awards
Each year, The Ohio State University recognizes excellence in teaching, service, diversity enhancement, and scholarship through a variety of awards programs. Faculty and staff are honored for their distinguished contributions to the betterment of the university community in several areas. Review the awards in the following list of links and consider nominating deserving employees.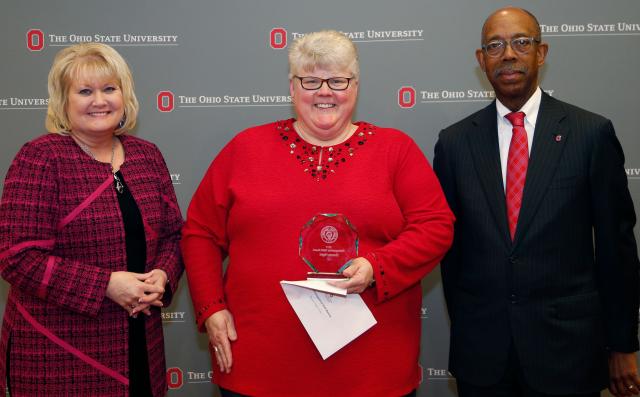 ---
National and International Awards
The Office of Sponsored Programs within the Office of Research offers a tool to search for national and international awards. Choose Nomination Programs and/or Prize search categories in the Special Funding Opportunity Categories search box to review available awards.
---
President and Provost's Council on Women Award and Recognition Initiative
The President and Provost's Council on Women (PPCW) analyzed data of Ohio State staff and faculty who have received awards and recognition and concluded that women tend to be underrepresented. To help change this, one focus of the council is enhancing recognition of women staff and faculty on campus. As part of their #WeNominateWomen campaign, PPCW encourages everyone in the university community to nominate applicants, including women and underrepresented individuals, for university awards. Use #WeNominateWomen to raise awareness and encourage others to do the same!
Tips for Creating a Strong Nomination
PPCW offers the following tips for creating a strong nomination packet:
Understand the unique criteria for each award. Qualifications and application processes vary. (See the University Staff and Faculty Awards section on this page for links to detailed award information.)
Speak to the strengths of your nominee. 

Articulate how the work and service of your candidate contributes to the Ohio State University community.
Include specific examples of their contributions, such as university committees, internal or external service, and volunteer work outside the university.
Strengthen the nomination with direct quotes from faculty, staff and students about the impact of the nominee.

Seek assistance from the person or from a close colleague to gather supporting materials. Find people with knowledge of the nominee's work who might be able to assist with nomination packets or provide information to strengthen the submission.
Avoid gender bias in your nomination materials. To avoid some common pitfalls based on unconscious gender bias (remember, everyone is susceptible to gender bias), consider consulting these helpful guides and tools as you create your nomination materials: