Below are professional development opportunities available at The Ohio State University
President's and Provost's Leadership Institute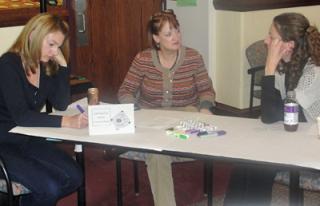 The President's and Provost's Leadership Institute focuses on long-term faculty leadership development. The primary goal of the Institute is to create a pool of potential leaders from groups that traditionally have been underrepresented in key leadership roles, and in particular in the role of department chairs and school directors. The 18-month institute focuses on the nature of effective leadership rather than on the tasks for which academic leaders are responsible. For more information, see Leadership Programs.
The Women's Place Staff Leadership Series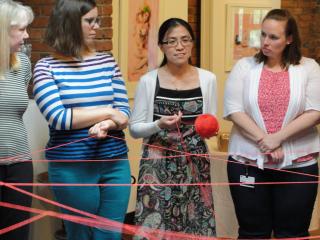 The Staff Leadership Series is an initiative specifically for staff women at the university who are interested in both skill building and leadership development activities. The year-long series will expand leadership capacity, cultivate professional development, and create a pool of potential staff leaders from groups that have been traditionally underrepresented in key leadership roles. For more information, see Leadership Programs.
Association of Staff and Faculty Women (ASFW)
ASFW is a dynamic organization committed to supporting the professional development of all staff and faculty women at The Ohio State University. ASFW, a volunteer organization, supports women on campus by providing networking opportunities, coordinating unique programming, and connecting women. For more information, visit the ASFW website.
National Center for Faculty Development & Diversity
The NCFDD is a nationally-recognized independent faculty development center dedicated to supporting academics in making successful transitions throughout their careers. Through Ohio State's Institutional membership, faculty, postdoctoral researchers, and graduate students have access to the following NCFDD resources at no cost: core curriculum webinars, guest expert webinars, dissertation success curriculum, multi-week courses and much more. To register for membership, visit the NCFDD website.
Staff and Faculty Professional Development Opportunities across the University
In support of faculty and staff professional growth, the Office of Human Resources offers a robust learning and development website, Gateway to Learning. Gateway to Learning offers resources for career planning and growth, managing and leading others, handling change, mentoring and many other topics. It also includes descriptions of training in BuckeyeLearn and provides links to learning opportunities across campus.
Mentoring/Protege Guidance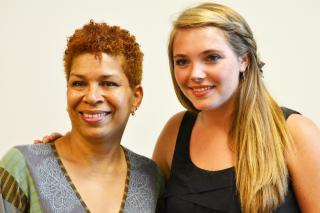 The National Research Mentoring Network (NRMN) is a nationwide consortium of biomedical professionals and institutions collaborating to provide all trainees across the biomedical, behavioral, clinical and social sciences with evidence-based mentorship and professional development programming. NRMN's program models emphasize the benefits and challenges of diversity, inclusivity and culture within mentoring relationships, and more broadly the research workforce. The mentor training offers a number of benefits and advantages for those who participate.
Mentoring is a valuable source of personal and professional development that focuses on guidance and career advice. Use these tips and tools from Human Resources, including a mentoring and a protege toolkit, to identify your mentoring goals and build a successful relationship.
John Glenn College MAPS Program
The Management Advancement for the Public Service (MAPS) Program offers training seminars that build management and leadership skills for top executives, mid-level managers, first-line supervisors, and administrative support staff. Skill-building sessions are available for employees at all levels.
OSU Leadership Center Workshops
The OSU Leadership Center is lead by a group of professionals dedicated to providing leadership-centered education and research to individuals, organizations and communities. They provide high-quality, practical programs to build and strengthen leadership capacities, and offer an in-depth collection of leadership-related resources for loan.
Art of Hosting Meaningful Conversations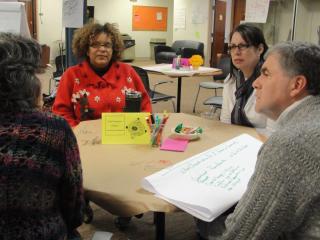 The Art of Hosting (AoH) is a highly effective way of harnessing collective wisdom and the self-organizing capacity of groups of any size. Based on the assumption that people give their energy and lend their resources to what matters most to them — in work as in life — the Art of Hosting blends a suite of powerful conversational processes that invite people to step in and take charge of the challenges facing them in an inherently more democratic way than most conversations.
Big Ten Academic Alliance Academic Leadership Program
The Big Ten Academic Alliance Academic Leadership Program develops the leadership and managerial skills of faculty who have demonstrated exceptional ability and academic promise. Many of the programs' nearly 1000 Fellows have gone on to serve with distinction as college presidents, provosts, and deans. (The Big Ten Academic Alliance, formerly called the Committee on Institutional Cooperation (CIC), is a collaboration among research universities.) More than 100 Ohio State faculty members have participated in the program since its inception in 1989, and many of these former fellows now hold prominent roles in university leadership.
Big Ten Academic Alliance Department Executive Officers (DEO) Seminar
Big Ten Academic Alliance Department Executive Officers Seminar is a three-day seminar bringing together approximately 65 department heads and chairs from Big Ten Academic Alliance universities. (The Big Ten Academic Alliance, formerly called the Committee on Institutional Cooperation (CIC), is a collaboration among research universities.) Topics at this three-day event range from conflict resolution and time management to faculty development, performance reviews, and group problem solving. Individual department heads and chairs are selected by their respective campuses. Contact the appropriate DEO Liaison for more information about participating in a future DEO Seminar.
The Higher Education Resource Services (HERS) Leadership Development Program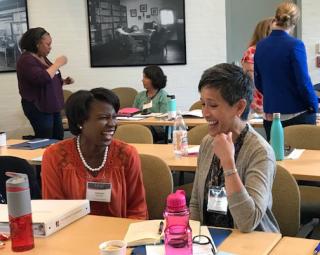 The Higher Education Resource Services (HERS)Leadership Institute is a transformational, leadership development program for women in higher education. Participants are asked to share their vision of leadership and what they hope to contribute to their respective institutions and are then challenged to develop the skills to actualize their professional vision. They are also encouraged to champion the growth of other participants. Alumnae of the HERS Leadership Institute emerge better-skilled and more confident in leading with their unique voice, providing a much-needed infusion of bold, new leadership to their respective institutions. The intensive curriculum allows participants to gain skills and perspectives they can put to use immediately, while also building a national network for continuing exchange of information and expertise. For more information, see the HERS Leadership Programs page.
Difficult Conversation Resources
Below are two resources for difficult conversations available on the Office of Human Resources' Gateway to Learning website.
Difficult Conversations video (9 minutes): This video created by OHR is an excellent resource for thinking about challenging conversations and how to conduct them in a productive way.
This 8-minute guided meditation will help you prepare for a difficult conversation. Click on the mountain stream image to start on a relaxing journey into nature, where you can clarify the issue and goals for your conversation and emerge with more perspective.
Resources to Counterbalance Biased Student Evaluations
Student evaluations of teaching have been found to be biased against women and people of color. Therefore, the American Sociological Association, in collaboration with other scholarly societies, encourages institutions to use evidence-based best practices for collecting and using student feedback about teaching.
Moving Forward in Your Faculty Career
This promotion guide for associate professors provides ideas about how to move forward from associate to full professor. The information came from the observations and experiences of faculty, university wide, as well as other experts outside the university. The suggestions presented in this brochure are a collection of ideas to consider as you prepare to move to the next level in your faculty career.
Providing Leadership for Faculty Promotion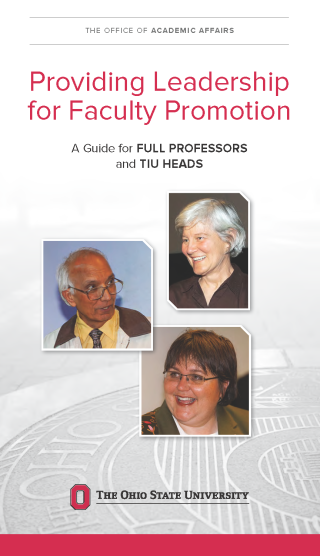 This guide for full professors and TIU chairs/directors provides a wide range of suggestions, gathered from people across campus and experts outside the university, on the issue of supporting promotion to full professor. There are specific actions that can be taken by the full professors as a whole (the group that constitutes the eligible faculty for voting in promotion cases), by the promotion and tenure committee and its chair, and by the chair/director. The guide highlights many of these suggestions as best practices for each of these groups.