This collection of LGBTQ+ focused practices and university resources welcomes and supports LGBTQ+ employees and offers guidance for LGBTQ+ allies.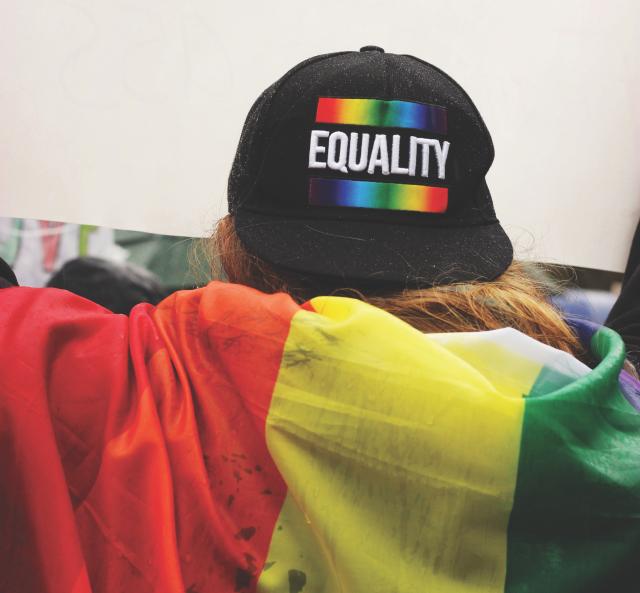 According to the Human Rights Campaign (HRC), "nearly two-thirds of self-identified LGBTQ Americans have reported experiencing discrimination in their personal lives," including the workplace. Based on their 2018 study, "A Workplace Divided: Understanding the Climate for LGBTQ Workers Nationwide," HRC found that despite legal gains and broad social acceptance, LGBTQ workers remain closeted on the job and experience bias. One in 10 LGBTQ workers reported having left a job because the environment was not accepting of LGBTQ people, but one in four LGBTQ workers have stayed in a job primarily because the environment was very accepting.
In alignment with our Vision to be a 21st century leader in the equity and advancement of all women in higher education, The Women's Place seeks to cultivate climates of inclusion and policies, practices, and benefits that allow all The Ohio State University staff and faculty to thrive and make their full contribution. Therefore we compiled the following resources for all Ohio State staff and faculty, not just those who comprise the LGBTQ group.
The ideas presented here are a collection of LGBTQ+ focused practices and university resources to welcome and support LGBTQ+ employees, faculty and staff who are new as well as those who already work at Ohio State. Regardless of whether or not there are currently openly LGBTQ+ staff or faculty within a unit or department, we encourage everyone to engage in these best practices so that our campus is welcoming for all – students, current and potential employees, and guests.
Education and Dialogue
Education and conversation can be the first steps toward creating a more safe and welcoming environment. Regardless of whether or not a unit has LGBTQ+ employees, encourage everyone to participate in consistent and ongoing general diversity training as well as those that specifically educate them on LGBTQ+ issues and address homophobia and transphobia.
The Office of Human Resources Learning and Development provides learning opportunities to help foster diversity and inclusion. Topics include managing diversity, identifying and addressing bias, and creating an inclusive work environment.
The Multicultural Center (MCC) Safe Zone Training provides a general overview of issues faced by the LGBTQ+ community to increase awareness and understanding of sexual orientation, gender identity, and expression; to provide resources for allyship; and to promote an inclusive culture where folks of all sexual orientations and gender identities can live authentically.
Kirwan Institute on Race and Ethnicity is considered a national expert on implicit ""bias. While the work of the institute is primarily focused on race and ethnicity, the resources can be applied to topics related to LGBTQ inclusion. They have also launched the nation's first free and publicly available online implicit bias module series.
The Office of Student Life Open Doors Program is an adaptable awareness program to increase participants' knowledge about bias and its societal effects, and to provide tools for how to address it and support those experiencing it. It also teaches Ohio State community members how to use the Bias Assessment and Response Team (BART) reporting system.
Explore an interactive map to discover the many different but related identities and expressions that make up the idea of "gender."
Inclusive Business Practices
Another way to create an inclusive environment is by intentionally updating the ways we introduce ourselves in professional settings and manage our workspaces so that they are accessible to our coworkers and guests.
Preferred Pronouns: When meeting someone new or initiating introductions, stating your preferred pronouns and making space for others to share theirs is a basic way to show respect for gender diversity and identity. Commonly used preferred pronouns include, but are not limited to she/her/hers, they/them/theirs, he/him/his.
For example, add pronouns to pre-printed nametags or leave space for people to add their own pronouns to name tags for conferences, meetings, and events.
Another way to share preferred pronouns is in signatures and business cards. Ohio State Advancement has incorporated pronouns and honorifics into the Ohio State branding templates.
Preferred Names: Ohio State allows staff, faculty, and students to use their preferred name on their BuckID and replace a BuckID listing a legal name at no cost. Learn more at the BuckID website for how to update your name in Buckeye Link and then update your ID.
Gender Inclusive Language: Refrain from using gendered language that might misgender or discriminate against any colleague, visitor, or student. Substitute gendered references such as "you guys," "ladies and gentlemen," "ma'am" or "sir," with non-gendered terms like "you all," "folks," "everyone," or a person's first name. Instead of "thank you, Ma'am," one can easily say "thank you, Ebony."
Gender Inclusive Restrooms: Gender inclusive restrooms are available throughout Ohio State's campuses. Clearly mark restrooms in your building with appropriate signage, and share the location of gender inclusive and single stall restrooms. In buildings without gender inclusive restrooms, provide a list of nearest single stall or gender inclusive restrooms in other buildings.
A comprehensive list of all gender inclusive Ohio State bathroom facilities is now available on the Ohio State App. To find the list, select "Campus" from the menu bar, then scroll down to "Gender Inclusive Restrooms."  Here you will find the listing by building.  
Inclusive Policies
Research shows that inclusive policies and procedures can influence culture by protecting employees and showing that those employees are valued. Ohio State is committed to equal opportunity and eliminating discrimination and has a Non-Discrimination Policy that is consistent with these values. Consider writing an inclusion statement that includes sexual orientation and gender identity.
Ohio State Office of Information Technology offers a sample inclusion statement.
Human Resources provides the Ohio State Affirmative Action, Equal Employment Opportunity, and Non-Discrimination Policy.
Networks and Mentors
"We can't be what we can't see." It is important for everyone to have access to networks of professional support as well as mentors whose experiences resonate with one's own identity. Below are formal LGBTQ+ groups for faculty and staff of Ohio State.
LGBTQ Employee Resource Group (ERG), hosted by The Ohio State University Wexner Medical Center, is open to all LGBTQ faculty, staff, and allies at Ohio State. The purpose of the ERG is to provide opportunities for the community to come together to network, socialize, and discuss issues of importance.
Pride Out Loud Employee Resource Group (ERG) serves Ohio State Newark and Central Ohio Technical College faculty and staff in a variety of capacities including but not limited to: sharing best practices, community building, and hosting trainings on topics pertinent to supporting LGBTQIA+ colleagues, students, and other campus guests.
Scarlet and Gay Alumni Society was founded in 1997 to promote and support LGBTQ alumni and students at Ohio State. It sponsors a scholarship program along with social and community events that are open to all Ohio State staff, faculty, and students.
Benefits and Resources
The following are considered particularly valuable by LGBTQ+ employees:
Additionally the Multicultural Center provides a clearinghouse of resources for Ohio State students that can also be transferable to faculty and staff.
Columbus State Community College's Global Diversity and Inclusion Center compiled an extensive list of local and national organizations that offer support geared towards the lesbian, gay, bisexual, transgender, queer, and questioning community. The list also includes website links for learning more about gender, sexuality and social justice.
Through education, inclusive business practices, policies, and mentoring we can shift culture to support the professional development of LGBTQ+ employees at Ohio State. This praxis will help to create and sustain an environment where all people can thrive and make their full contribution.