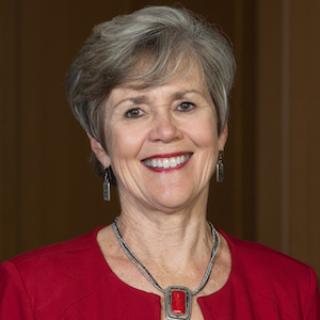 Vice Dean and Associate Professor
College of Nursing
Describe your career path that has led to your current post.
I have had opportunities to practice as a nurse in many states. My husband was a career USAF officer, so we moved frequently. Our frequent moves provided challenges and opportunities for me. I practiced as a nurse practitioner, providing care for patients of all ages, in many states; opened nurse-run clinics in two states; and served as either full-time faculty or clinical faculty in six different universities. This helped prepare me to educate nurse practitioners.
I had the opportunity to learn how to deliver online education from a top notch IT team, which led to the success of federally funded online nurse practitioner programs at two universities. Ohio State's College of Nursing online graduate program is ranked #4 in U.S. News and World Report.
My varied practice and teaching experiences prepared me to serve as associate dean of practice in Dean Bernadette Melnyk's administrative team, an experience that helped me prepare for my current position as vice dean.
How would you describe your leadership style?
My leadership style is collaborative and strategic. In addition, I hope I am viewed as a person of integrity, fair minded, caring and fun loving.
What were the best career investments you've made along the way?
Getting my undergraduate degree from University of Virginia, master's from Vanderbilt, and PhD from Ohio State. Working in jobs that I loved. And getting involved in health policy legislation at the state level.
Nurse practitioners make up a relatively new profession that started in 1965. Their success as a profession has been through the leadership of great practitioners who have worked tirelessly in health care legislation to allow nurse practitioners to practice at the top of their scope.
One of my best career investments is getting involved in health policy at the state level. Volunteering for legislative committees in professional organizations helped me increase my skills and knowledge in making legislative change. Through these experiences, I have met leaders in health policy and have learned so much about making change.
Currently, 22 states have full practice authority for nurse practitioners. Unfortunately, despite our great need for health care providers in the state of Ohio, Ohio is not one of the states that allows independent authority for nurse practitioners. I have learned that change takes time and is incremental. This life lesson has served me well not only in health policy but in making changes in other aspects of my professional life.
Any mentors or champions who supported your professional development?
My parents instilled the desire to obtain a higher education. My husband has always supported my educational aspirations and has been my best sounding board. My children have always been supportive of my being a full-time working mother. Former students became valued and trusted colleagues in teaching and practice. In addition, Dr. Bernadette Melnyk gave me the opportunity to work in my current position, which I have greatly enjoyed, and encourages all of us to "dream big." And there have been leaders and experts in health policy in the state of Ohio and at the national level.
How would you describe your career goals today? How have they changed over time?
My career goal is to do all I can do to help citizens of Ohio have access to the best evidence-based health care obtainable. To accomplish this goal, I work with our faculty to educate outstanding nurses at the bachelor's, master's and doctoral levels — and learn and implement the best strategies for teaching and practice.
I also work to help our legislators understand the health needs of the people of Ohio and how they can be best served if all health care providers are allowed to practice at the top of their scope of practice. I think my career goal has changed from one of providing individual care to my patients to thinking and working toward the health of our population.
What kinds of challenges have you faced along the way, and how did you overcome them?
I grew up in the Appalachian Mountains where I learned about the impact of poverty on health. I learned the importance of family and hard work and a sense of community through my Appalachian upbringing. Early in my career, I served in the U.S. Public Health Service, where I learned access to health care is a challenge throughout our country.
By serving in the U.S. Public Health Service and being a spouse of a career Air Force officer, I learned you do not always get to choose your place of residence. For the first 25 years of my professional career, I had little choice in my place of residence, which provided a challenge in climbing the career ladder.
However, it gave me great opportunities to learn about the culture of many areas, and I think this provided me greater understanding and appreciation for diverse thoughts. Health challenges experienced by two of my children have helped me to develop a perspective of balance and the importance of making the best of every day.
When you think about serving in a leadership role as a female, do any unique experiences come to mind?
A career in nursing, a historically female dominant profession, has different challenges for women compared to careers in historically male dominate professions. In a female-dominate profession, gaining a position of leadership does not require breaking the glass ceiling.
Even so, when you explore characteristics of historically female-dominated professions such as teaching and nursing, you encounter professional challenges not seen in male-dominated professions. Among these are wages for equal work and policies that do not recognize our educational preparation. Working to make changes in these policies has provided me unique experiences in policy development.
What advice would you give to other women looking to reach similar goals?
Choose a career or volunteer position that you enjoy and have a great deal of passion for. When you see a need for change, work collaboratively to make the change and recognize change may come slowly. But with perseverance, change most likely will occur. Try to gain a better understanding of people who think differently than you do as you will learn much from them. Be open-minded to new opportunities.
What's next for you? Something you're looking forward to.
The next stage of my career will probably be retirement. I look forward to increased time with my family and to travel. I also hope to work toward improving health care access by continuing to be involved in health policy.