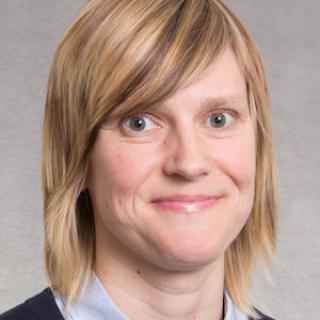 Associate Vice President, Learning Technology
Office of Distance Education and eLearning
Describe your career path to Associate Vice President of Learning Technology at Ohio State.
The work I've done has been a mix of creative work supported by technology, and technology work that has a creative element to it.
I did some youth media work at a PBS affiliate in New York right out of college, then moved to Columbus, ran a film festival, and worked as a teaching artist at the Wexner Center. I had to think hard about leaving freelance work to take a more traditional job at Ohio State.
I joined the Digital Union team in 2006, running education and training. I grew from there and began managing people and projects, planning the Innovate conference on learning technology and then starting the Digital First initiative—that was really the first big program that I built from the ground up. We continued expanding on that initiative and ODEE became its own unit at Ohio State in 2013. I've enjoyed being a part of the strategic development for learning technology across the university, and that's led to my current role as Associate Vice President of Learning Technology.
How would you describe your leadership style?
I'm committed to a work environment that's collaborative and inclusive, because I truly believe that communities do a great job at generating ideas and solving problems. I see my role as identifying conversations that need to happen, and facilitating those. I try to make sure the strengths and voices of everyone involved can contribute to our collective success. Especially with our work in educational technology, this kind of environment helps facilitate the organizational change necessary to evolve and face modern challenges that are increasingly complex and fast moving.
What were the best career investments you've made along the way?
I'd say my best investments are in relationships with people. I work with people who are really good at what they do, and who bring not only their good ideas but also their questions and critiques to the discussion.
When I moved into the Interim Associate VP role, I participated in Ohio State's coaching program. My coach helped me assess my own strengths and opportunities for growth in leadership, which I'm always interested in. It was really helpful to have someone help me navigate challenges as they arose.
Any mentors or champions who supported your professional development?
Vicky Getis, who hired me into my first role at Ohio State, provided me with opportunities to build a vision and create my own projects at the Digital Union. She gave me space and also helped me think things through when I needed support.
I participated in a group mentoring program in the OCIO, which paired one mentor with three mentees. This structure helped me learn from my mentor, Nanci Gobey as well as my colleagues. She created a safe, fun environment to be candid and put concerns out on the table.
Mike Hofherr has provided exciting opportunities that have stretched me beyond the kinds of work I've done before. Looking back, these small stretches have added up to a lot of growth. Mike's encouragement and partnership has brought a lot of energy to our organization and I feel lucky to do this work.
How would you describe your career goals today? How have they changed over time?
A pretty constant career goal for me is to do work that I love, that I find interesting, and work that's important in the world — although it's taken different forms over the course of my career.
I'm interested in how education is changing, and how it can support students in becoming responsible citizens who think critically, are connected to their communities, and consider the impacts of their lives on people around the world. One goal of mine is to foster learning environments that help educate students with these outcomes in mind.
A newer professional interest of mine is organizational transformation; how we can bring out the best in people and teams across an organization.
What kind of challenges have you faced along the way, and how did you overcome them?
Early on in my career, I was working with a fantastic group of people, but not doing work that I loved. Realizing the need to change my trajectory and do something that better aligned with my passions for connecting people and exercising creativity was an important, but hard decision.
Also, my career has grown at the same time as my family. Reconciling my intention to stay fully in the game professionally while committed to my partner and two little kids is something that has taken time to figure out and is still a challenge. I'd like to find a balance that allows me to enjoy working in new arenas and still have a rich life outside of work.
When you think about serving in a leadership role as a female, do any unique experiences come to mind?
I took two maternity leaves, focusing completely on my family during those times. They were both very important and positive moments for career, entrusting my team to do all of the work we do. It was a good opportunity to realize the strength of my team and its members, helping me shift from managing the details to leading a strong team.
The OCIO and ODEE teams have a significant presence of strong women in leadership. And I've looked to other women leaders at the university to hear their experiences; having support from those colleagues has been great. I participated in the women's staff leadership program, and appreciate that Ohio State recognizes the value in creating networks for faculty and staff to learn from each other.
What advice would you give to other women looking to reach similar goals?
I think that finding work you believe in, and work that you love is the best way to achieve those goals. It's really valuable to build support systems with people from different perspectives, too. And I think women should try to redefine success in a way that's meaningful for them.
What's next for you? Something you're looking forward to.
I'm part of the Committee for Institutional Collaboration on Learning Technology leadership group, and I really enjoy working with partners outside of Ohio State. I'm looking forward to continuing to build those relationships, because there's so much to learn from how other institutions are doing things.
Also, in looking at the culture of our own, relatively young organization [ODEE], I'm looking forward to new conversations like developing a reward and recognition program. I just feel fortunate to have had lots of support over the course of my career and I look forward to developing those resources for others.