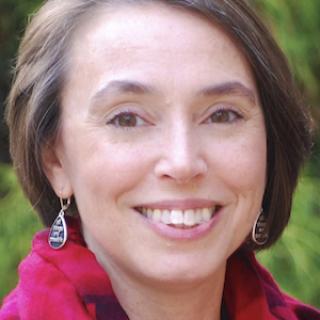 Senior Director of Business Operations and Administration
Office of International Affairs
Describe your career path to Senior Director of Business Operations and Administration, Office of International Affairs at Ohio State (as in, the actual progression of positions through organizations).
Many people think of a career path as a linear trajectory. Yet, opportunities arise out of the most unlikely of places. Keeping my eyes, ears, and heart open to opportunities while remaining grounded in the realities of raising a family profoundly shaped my personal and professional philosophy and career path. It's really all about love and about being transformed through learning and growth because of your love.
Let's begin with my employment in Children's Protective Services in Austin, Texas, where over five years I held three positions, was promoted twice, and served in several department reorganizations to help the children in our care. Here I learned how hard work, compassion, and community can save a life, and I learned what love can do to reverse the effects of trauma and hate. I came to realize that life is about both the cards we are dealt and our own fortitude. Fortitude comes from doing what is hard and right in spite of the obstacles, including the voice of fear in our heads that says "I can't."
After several years in Austin, I moved from the shimmering heat of Texas to the frigid Midwest of Ohio for family reasons. I was shortly hired on as a secretary in the Entomology Department at The Ohio State University. Never mind that I had to look up "entomology" in the dictionary before my job interview. Here an amazing faculty and staff nominated me for a distinguished staff award. Although I did not win, the letters they wrote are still among my most cherished possessions today. Seeing myself through their eyes was a powerful experience; I began to believe in me as much as they did. When offered a promotion to Fiscal and Personnel Officer within the department, I quickly accepted.
I went back to school to complete my bachelor degree at Hope College in west Michigan after serving at Ohio State for five years. While in college and after graduation I worked in a variety of positions in manufacturing and insurance.
Eventually, I came back to Ohio State to work as the Fiscal and Human Resources Manager for the Mershon Center for International Security Studies and to complete my master degree. A few years later I interviewed for the position of Director of Business Operations in International Affairs. The final interview question was "what do you bring to this position?" Without hesitation, my answer was "leadership." While it is true that credentials and experience matter, so does the desire to pay it forward. I want to give others the opportunities and encouragement that so many others have invested in me.
How would you describe your leadership style?
What were the best career investments you've made along the way?
Investing in my degrees was an essential part of my career path. Investing time and energy into cultivating relationships with mentors had an equally important impact on my career. Finding a good mentor is like creating an apprenticeship for yourself within your profession.
Any mentors or champions who supported your professional development?
I've had many wonderful and crucial mentors along the way. Far and away, though, Nancy Tomei, my first Senior Fiscal Officer when I worked in Entomology, has been my most treasured mentor. She gave me the first glimpse of myself on a potential career path.
How would you describe your career goals today? How have they changed over time?
I've always seen my career path as being fluid; where the opportunity presented itself I took advantage of that opportunity.
What kind of challenges have you faced along the way, and how did you overcome them?
Many women struggle with this myth of the imposter syndrome: that we don't belong, that we're not good enough, that we don't deserve to be here.
Changing the narrative is crucial. It happens when we realize that we have not only the right, but also the obligation to put our talents and strengths to use in the service of a higher purpose. I decide how bright my light shines and how much of a difference I make.
When you think about serving in a leadership role as a female, do any unique experiences come to mind?
Language. My male colleagues often use more direct speech patterns than my female colleagues. This was pointed out to me early in my career, and it has helped me communicate more effectively ever since.
What advice would you give to other women looking to reach similar goals?
What I know about work is that at its best it is transformative. It changes us and it gives us a chance to change the world. Bring your passion and purpose to your work. Realize that every action you take can impact and improve the lives of others.
What's next for you? Something you're looking forward to.
Learning. I'm looking forward to all the teachers that have yet to come into my life.