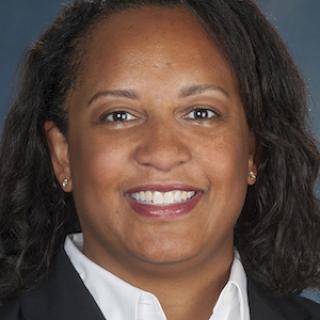 Interim Chief Human Resources Officer
Wexner Medical Center
Associate Vice President for Human Resources Administration and Operations
Describe your career path to the titles above at Ohio State (as in, the actual progression of positions through organizations).
I'm an attorney by training and practiced law at a private firm for 6 years before coming to the university as Assistant General Counsel for Labor and Employment. From that role I was ultimately promoted to Assistant Vice President and Associate General Counsel for Labor and Employment in the Office of Legal Affairs, where I managed the Labor and Employment Practice Group. About 5 years ago, I was asked to serve as the university's interim Vice President for Human Resources for about 4 months while the university completed its search for that new leader. After we filled that position, I went back to the Office of Legal Affairs. In July 2013, our current Senior Vice President for Talent, Culture and Human Resources recruited me to join her team. After I took the job as Associate Vice President for Human Resources Administration and Operations, the Chief Human Resources Officer for the medical center resigned, so I was asked to take on that job as well. I have been doing both roles for nearly 17 months.
How would you describe your leadership style?
Collaborative. I am a team-oriented person, and I like to support everyone on my team. If I'm the leader, I gather the relevant information and make a decision so that we can complete the objective. I'm a developer; I like to encourage people to grow. I'm not a micromanager. I have high-expectations for my team, and I expect people to deliver what we set out as our goals. I believe that people need to have fun at work, and I support that by having a relaxed atmosphere.
What were the best career investments you've made along the way?
Investing time in productive mentoring relationships with multiple people who gave me candid feedback about my strengths and weaknesses. Also, investing in people who I mentored and helped grow.
Another career investment I made was pushing myself to succeed at a young age. I invested early in learning as much as I could about what I wanted to do. One of the biggest things you can do is be curious. If you're always curious about what people do, why they do it, and what motivates them, then you learn something that will help you better serve them.
Any mentors or champions who supported your professional development?
Yes, many. Whether they were outright giving me career advice or just helping through a particular situation, there's always something you take away from any relationship. I believe that you need to have more than one mentor. Your life and your career is not one single straight trajectory, it's a journey, and you're going to need different mentors for different situations. Everyone doesn't know everything. Just because they're at a certain place in their career doesn't mean they've been through what you're going through. So you need to have a team of mentors for your career.
How would you describe your career goals today? How have they changed over time?
An important goal at this stage of my career is to develop the staff working environment and make this university a workplace of choice. I am very passionate about this goal. My overall career goal is to continue to serve the university at a high level in an administrative capacity. I've practiced law for over twenty years, and I am grateful for the depth of knowledge and experience it gave me. I see making the move from legal counsel to being part of the university administration as just taking the knowledge I had and applying it in a different and productive way.
What kind of challenges have you faced along the way, and how did you overcome them?
A challenge I had early in my career was being considered too young. When I moved into the in-house realm at OSU, I was the youngest attorney on the staff by several years. We had issues related to high-level executives, so I was dealing with people who were at the peak of their career. I had to show them that I could have serious, effective conversations with people who were so much deeper into their career than I was. That was how I overcame that. Starting a family and choosing what career opportunities to take also brought challenges, but you have to decide what's going to work best for you and just do it.
When you think about serving in a leadership role as a female, do any unique experiences come to mind?
It's surprising how often you can still be the only woman or one of a very few number of women in a room. I don't know that it's a unique experience because most women in leadership roles experience that. I hope over time we see more balance and that you can feel women's points of view are fairly represented. Sometimes people think that, in general, if there's a woman on the team then the "female view" is represented, but all groups of people are not monolithic. The idea that we only need one or a few to be represented is misguided. I would really love to see that continue to be diminished.
What advice would you give to other women looking to reach similar goals?
First, you need to be really good at what you do. Personal excellence and integrity make you valuable in a leadership role. Seek out any opportunity, no matter how small, that will allow you to demonstrate leadership. Spend as much time on the leadership aspect of your job as you do the technical aspect of it. Treat leadership like a skill that needs to be developed because that's what it is. Find several mentors. Make sure that on the way to reaching your goals you haven't left something really critical to who you are behind because personal integrity is the most important thing.
What's next for you? Something you're looking forward to.
I'm looking forward to my son graduating high school in June. Beyond that, I am working a couple of big projects. The first is the Efficiency and Effectiveness work at the medical center and transitioning the role that I'm in to a new leader. I'm looking forward to completing that work and finding somebody who will be a big part of the future of the medical center. I'm also excited about getting to focus full-time on the HR community and continuing to foster our service and partnership with university units.