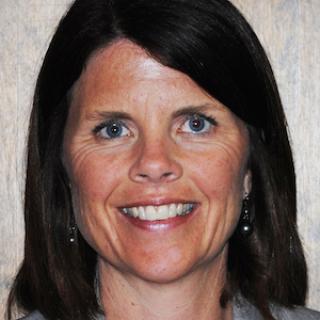 Chief of Staff
Office of the President
Describe your career path to chief of staff at Ohio State.
I started my career in higher education in student life. I worked at Bowling Green State University, Indiana University of Pennsylvania and Ferris State University in various student life capacities. My master's degree is in higher education administration.
My husband and I moved here in 1997. He got a job at Ohio State first; eventually I found something in human resources in an IT recruiting role. They leveraged the same skills that I had used in some of my previous roles in student life. So I did recruiting for a few years, but really the opportunities that were afforded to me in HR are what got me here. I have worked for, over the course of my 14-year career in human resources, a number of people who took a vested interest in me and encouraged me to take on new responsibilities. My time in HR was spent in a number of different roles, primarily in talent management where I would either be leading projects or leading teams of people. Eventually, I was given the opportunity to serve as a chief of staff for the vice president for human resources. I can't say that I started my career out with this specific plan of, "I'm going to be a chief of staff someday." That never crossed my mind.
How would you describe your leadership style?
I have a very collaborative and helpful leadership style — collaborative in that I try, and sometimes I do stumble, to include the right people in moving efforts forward. I am not one who believes I should do everything on my own. Including people with other strengths and abilities is really important to me. And I am helpful in that I really do have a desire to serve. When I'm in a leadership capacity, even like this one in which I am supporting the president but working with other leaders across the university, my desire is to help all of them be successful.
What were the best career investments you've made along the way?
Probably the very best thing I've done along the way is listened when people have said, "You can do this." It goes back to the people who encouraged me to do things that were a little out of my comfort zone. Doing those things, and being all-in when I've done them, have been great investments for me, both personally and professionally.
Any mentors or champions who supported your professional development?
I've been blessed to work with and for a lot of people who have been absolutely phenomenal. My first professional boss at Bowling Green was an amazing supervisor and modeled all of the right leadership behaviors. In my very first position I was seeing someone do it well, and I learned a lot from her. In HR, I had mentors who really cared about me who weren't just people that I reported to; I was surrounded by people there who were just great, great people to work with — in all areas of that organization. I can't name just one person because there were a lot of people who inspired me, helped me and I feel at different times were placed in my life for a reason.
How would you describe your career goals today? How have they changed over time?
I always feel like I should be able to tell people, here's what I want to be when I grow up. I do know I love working in an academic setting. I was in higher education for about ten years before I left for a couple of years. I loved my private sector experience but there's just something about working in an institution of higher education that really drives me.
When I first started my career I saw myself in student life. That's what I thought I'd do forever. Then because of some twists and turns I got taken in a different direction and I realized I could use a lot of the same skills that I had learned in student life in other areas. So now I would say that I am more open to working in different areas within higher education.
What kind of challenges have you faced along the way, and how did you overcome them?
One of the greatest challenges that I've had in my career has been balancing my professional life and my family. I have three kids. Right now they're 15, 13 and 10, but there was a point in time when they were 5, 3 and a baby, and every day it was a marathon just to get here. And when I got here, I wanted to take a nap because I was exhausted from the morning. Now it's the nighttime routine that's crazy because we've got a million activities. Fortunately, the president is very focused on family and that's a priority for him, and I feel a lot of support there which is wonderful.
When my family needs me, that is my priority, period. But there are days when I have to put what I'm doing here in front of something at home. It doesn't mean that they're less of a priority for me, it just means on that day that's where I have to be and they understand that and are fully supportive of me.
When you think about serving in a leadership role as a female, do any unique experiences come to mind?
My first job out of graduate school was at Bowling Green State University. I was the assistant director of Small Group Housing and Greek Life. So I was the advisor to all of the fraternities and historically black Greek organizations on campus. One of the requirements was that I had to live on campus as well so that I could respond to emergencies. I lived in a fraternity house for two years with 18 men, and I had a small apartment right off the living room of the house. I had just finished graduate school, I was barely 23 and at first it was interesting to tell my father that I'm going to move into a fraternity house. So not only am I living there as somebody who is in a leadership role, but I'm doing that with these men who are about my same age as well. It was one of those experiences when you have to step up and mature quickly. I loved it.
What advice would you give to other women looking to reach similar goals?
Try new things. Even if you don't think that you can do something, if people offer you the opportunity to do something different, push yourself. Who cares if you fail? You'll learn something from it. And if you have the opportunity to work directly with students, I would take it.
What's next for you? Something you're looking forward to?
I'm looking forward to the president's investiture on March 31. I'm really excited about his opportunity to talk to the university campus and the broader community about his vision for Ohio State and what he thinks we can accomplish.