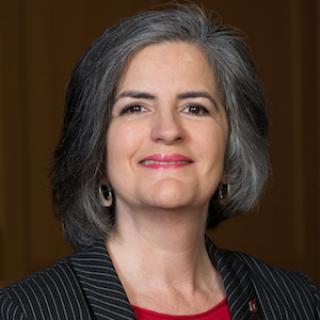 Communications Consultant
Office of Human Resources
Describe your career path that has led to your current post.
Looking back over my career path to date, some of my choices seem risky. The decisions could have backfired spectacularly. Instead, it's worked out pretty well so far.
I started my career as a newspaper reporter and editor in Leesburg, Virginia, having only visited the place once — for the job interview. After covering village councils and the school board, I was promoted to business editor. I later moved to Ohio with no firm job and got hired fairly quickly as the first editor of ThisWeek newspapers. Eventually I gave up the security of a job and salary to start my own communications consulting business, which I ran for 12 years. My clients included publications, nonprofits and manufacturers. One of my clients was an alumni society affiliated with what was then Ohio State's School of Public Health.
After six years of working with the alumni society, the School of Public Health separated from the College of Medicine and hired me as its first communications director. A few communications clients over the years had asked me to work full time. I was always committed to running my business. But I could see that the work done by the School of Public Health improved people's lives. I could envision a thriving future for the school. The faculty and staff were friendly and passionate about their work, and Dean Stan Lemeshow had a great vision.
I made the leap, and in 2005, I joined Ohio State as an employee. My assessment turned out to be very correct — the School of Public Health became a college in 2007 and moved into its own building in 2011. I worked with faculty, staff, students and alumni who make the world a better place to work, play, eat and breathe in. I am so proud to have been a part of Ohio State's College of Public Health in its formative years.
The best thing about working at Ohio State is the people you meet. While with the College of Public Health, I collaborated with terrific colleagues across the health sciences. Lonnie King was executive dean for health sciences at the time, and he was interested in promoting Ohio State's great strengths in health and wellness, aligning with the creation of the Discovery Themes. I left Public Health to lead this collaboration across the seven health sciences.
It's interesting to me as I look back to see that my roles at Ohio State have had ever-widening spheres of influence — alumni society, school, college, health sciences community. My current job as communications consultant in the Office of Human Resources is my first position that has university-wide impact.
Each new position has had an element of risk and a few tradeoffs. I'm pretty happy with the results!
How would you describe your leadership style?
Open, collaborative, accountable and willing to do what needs to be done. I like to feel that my work is useful and contributes to a greater good.
Providing stretch opportunities and professional development for team members also is a high priority. Since 2010, I've been part of an ad hoc group of Ohio State communications professionals who plan an annual workshop at Stone Lab. The Retreat on the Rock offers early- and mid-career communicators at Ohio State the opportunity for affordable training on university developments, higher education and general communication trends. It's important to me that we offer opportunities for learning and networking.
What were the best career investments you've made along the way?
y master's degree in public affairs and The Women's Place Staff Leadership Series rank as two of the best career investments. Being a student gave me two things — the education to support my career goals and the perspective of a student at our university. The Staff Leadership Series is an opportunity for self-reflection and analysis that enables you to see yourself as others do, to understand better what you bring to the organization and to get a sense of where your next steps may lead. I also met some great women who would not have ordinarily been in my Ohio State network.
Any mentors or champions who supported your professional development?
In addition to the deans I've mentioned, I would add my first supervisor, Ann Florentine, in the School of Public Health. When I first started working at Ohio State, she worked with me on setting up a flexible schedule. My children were all young at the time, and flexibility was a high priority for me back then. Kudos to her for helping me figure it out, and kudos to me for asking. Since then, she has provided so many helpful insights over the years. She's an Ohio State gem.
I will list one other Ohio State person by name — Professor Wondwossen Gebreyes, though he would probably be surprised. He leads Ohio State's One Health Ethiopia initiative and was the first colleague to whom I floated the unorthodox idea of my pursuing a Fulbright Specialist assignment in Ethiopia. He was encouraging and helpful with the initial idea and played a crucial role in my project's success.
Colleagues and peers along with friends and family are so important. One of the biggest champions of my career is my husband, Will. He was the one who suggested I start my own communications business early on. He supported my pursuit of a Fulbright project, knowing that it meant I would be away from home for a month. Other champions are Ohio State colleagues who have become treasured friends. If I tried to list them here, you would need to build an interactive table to show them all. My career path would not be nearly as much fun without friends.
How would you describe your career goals today? How have they changed over time?
My career goals today can be boiled down to two parts: work with terrific people and make a difference together. I'm blessed to currently work on a fun, highly productive team who help Ohio State faculty and staff get the information they need to be successful here.
Your overall career goals may not change over time, but your emphasis on certain job characteristics may change. When my children were younger, I valued flexibility. As they grew and entered college, having the means to pay for their education rose as a priority. Ohio State's tuition assistance programs helped with my son's education and my master's degree. After completing my master's, I was ready for new challenges and an international assignment. With each job change, I've kept the same goal of working with great people on work that matters.
What kinds of challenges have you faced along the way, and how did you overcome them?
When obstacles appear or I get a "no" answer, I just say, "OK. Next!" If I encounter a deal-breaker, that is a sign it's time to move on.
When you think about serving in a leadership role as a female, do any unique experiences come to mind?
When I was working on One Health Ethiopia, we had a delegation of about 10 leaders from an Ethiopian University visit Ohio State for a week. We planned a rigorous itinerary, eager to show off Ohio State to our partners and give them a productive week. There were two women leaders in the group of 10.
Before arriving, one of the women emailed me. She had recently been diagnosed with Stage 1 breast cancer. She was an unusual case because most Ethiopian women are diagnosed with breast or cervical cancer at Stage 3 or 4. The mortality rate for cancer is very high in a country with only four oncologists.
The Ethiopian leader asked me if she could have an appointment with an Ohio State doctor. Through a program at The James for international patients, we were able to set up a doctor's appointment and tests. A friend and I raised funds to cover the costs. The leader did not want to go alone to the appointments. She asked me to accompany her and sit in during the doctor visits. It made a huge difference for her that I was a woman leader in the right place at the right time.
What advice would you give to other women looking to reach similar goals?
Know what you want from your career and take the initiative to get it. That may mean building your airplane even as you are flying it. Ohio State can help you build that airplane if you take the initiative. Leverage the opportunities Ohio State offers — networking, professional development, wellness, education, etc.
Share your career goals and needs with others, including your supervisor. Sometimes it seems women feel that asking is a risk, or perhaps it rocks the boat. If you don't ask, it's an automatic "no." You may not always get the answer you want, but you'll never hear a "yes" without asking.
As you achieve success, lend a hand to others along the way.
What's next for you? Something you're looking forward to.
My current role offers opportunities to further develop my skills. For example, I hope to pursue training in two areas: change management communications and implicit bias. In addition, I will continue to be on the Fulbright Specialist roster until fall 2018 and eligible to work on one more international project. While in my current position, I hope to find a relevant project with great people working together to improve people's lives through communication.