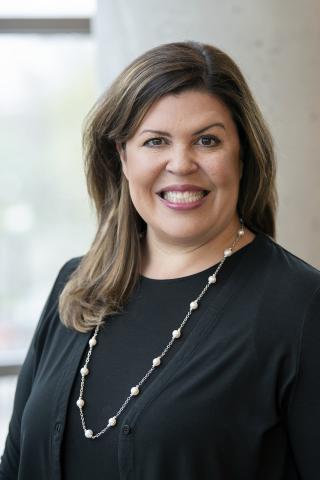 Assistant Vice Provost
Outreach and Engagement, Office of Academic Affairs
Describe your career path that has led to your current post.
In 2005 I came to Ohio State as a young professional to serve as coordinator of Women's Student Services in the Student Life Multicultural Center (MCC). Prior to that I worked as assistant director of International Student and Scholar Services at the University of Alabama. During my eight years at the MCC I also served as a program manager developing a workshop and training curriculum. I left the MCC to serve as a learning and development facilitator in the Office of Human Resources. While I was there, I developed a training curriculum focused on diversity and inclusion. After that I went to the Office of Research to work first as program manager and then as program director for Ohio State ADVANCE with the mission of recruiting, retaining and advancing women faculty in the STEM disciplines. I have recently begun a new role as assistant vice provost in the Office of Academic Affairs.
How would you describe your leadership style?
I would describe my leadership style as collaborative, authentic and inclusive. Connecting with individuals, in a personal way, to work towards collaborative solutions is key to my leadership style.
What were the best career investments you've made along the way?
Earning my PhD in Women's, Gender and Sexuality Studies (WGSS) at Ohio State was an important investment in my career. I did this while I was working. The process helped to grow my self-confidence. I also made valuable connections throughout the university outside of my professional roles. I still have a relationship with the WGSS department. I teach WGSS courses and the department has always been supportive of me. It is nice to have that connection.
Any mentors or champions who supported your professional development?
As I grew in my career, I learned that it is important to seek out mentors. I have several individuals at Ohio State and beyond that I regularly reach out to for advice or just a cup of coffee. It is so important to create your own network of mentors, advisors and champions that you know you can call upon when needed.
How would you describe your career goals today? How have they changed over time?
My goal has always been to leave the world a bit better and if nothing else to not cause harm. In each of my professional roles, I have had the great opportunity to make a positive impact. I am so grateful for these opportunities.
What kinds of challenges have you faced along the way, and how did you overcome them?
My biggest challenges were self-doubt and imposter syndrome. As I wrote my dissertation I overcame these challenges. So many women struggle with perfectionism, because society has told us that we have to be perfect to be valued. The best thing for me, was to let go of these unrealistic expectations and be my authentic self.
When you think about serving in a leadership role as a female, do any unique experiences come to mind?
I think my perspectives as a woman have allowed me to create meaningful connections with individuals. I have chosen to be authentic and vulnerable in my interactions and I believe this has allowed me to grow as a leader.
What advice would you give to other women looking to reach similar goals?
Network, say yes to opportunities, create connections, go after what you want! As women, we were taught at a young age to put our heads down and work hard. What I've learned is that you have to work hard and ask for opportunities. You are your own best advocate!
What's next for you? Something you're looking forward to.
In April I began a new role as assistant vice provost for Outreach and Engagement in the Office of Academic Affairs. I am looking forward to creating new connections at Ohio State and beyond. I am particularly excited about the opportunity to engage with the Central Ohio community.