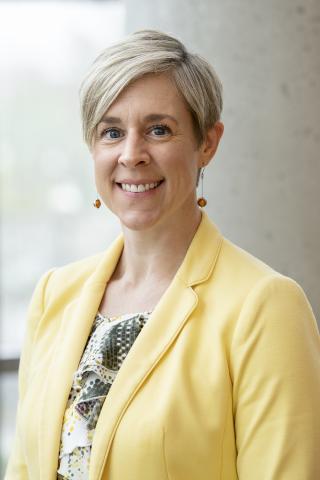 Executive Director
Center for Faculty Advancement Mentoring and Engagement
College of Medicine
Describe your career path that has led to your current post.
Prior to coming to OSU, I worked for several years managing a private art collection. The market collapse in 2008 prompted me to consider other career opportunities, so I looked to higher education, as I previously worked in higher education between undergraduate and graduate school. At this point, I honestly wasn't thinking about a new career direction, only stability, while I figured out what to do with my life. About a year after I arrived as program manager, our dean and vice deans identified a need for a comprehensive faculty development program, and I was given a stretch assignment as a member of the task force. I discovered that I have a real passion and interest in this work, both in program building and in talent development, so that is one of the happiest accidents of my life. Once our program went live, I became the administrator and then grew the program and became its executive director.
How would you describe your leadership style?
I would describe my leadership style as transformational. I am foremost interested in advancing the organization, and I believe that's best accomplished through mission, purpose, goal-setting and positive influence. Perhaps due to my education in art history, I see patterns and connections between things, enabling me to work cross-functionally and build teams to meet complex needs. I love working collaboratively to create high-value solutions. Busy work and bureaucracy drive me crazy.
What were the best career investments you've made along the way?
There are many. I prioritize investing in my growth and development. Obtaining a master's degree opened doors even outside my field of study; the Staff Leadership Series came at a pivotal point early in my career that honed my self-awareness; the HERS Institute was a formative growth experience; and I've received leadership coaching and I'm currently enrolled in the Hudson Institute of Coaching to become a certified leadership coach. I network a lot. Building relationships is probably the single, most important investment I've made.
And equally important is finding ways to apply these learnings. I seek opportunities to get outside my comfort zone and stretch myself. For instance, I joined the board of a nonprofit organization, the Healthcare Businesswomen's Association, to advance my knowledge of the healthcare field and to gain leadership experiences outside OSU. This exposed me to business models and leadership styles that have shaped me.
Any mentors or champions who supported your professional development?
Yes — many! Robert Bornstein, PhD, is my primary mentor and sponsor. He is an advocate and role model and has opened so many doors. He taught about me the value of saying yes and helping others achieve their objectives. When I started working in the college of medicine 10 years ago, I saw how the team supported one another and lifted one another up. I try to continue emulating that today. I think you get what you give. I've had the good fortune to work with many people who advise, mentor and support my professional development.
How would you describe your career goals today? How have they changed over time?
My career goals today are about adding value, serving others and creating organizational transformation while maintaining a quality of life outside work that provides time to pursue my many interests and spend time with people I love. I don't aspire to a specific role or title. However, I won't short-change myself, either. This is perhaps the biggest shift for me. I used to try to deny or diminish the visibility of my role, and I now know that the more I grow, the better I can serve others.
What kinds of challenges have you faced along the way, and how did you overcome them?
My biggest challenges stem from navigating the double bind of women in the workplace. (For those who don't know what this is, it's how societal assumptions about women being likeable, emotional and communicative are at odds with assumptions of what a leader should be — strong, assertive and decisive. When women demonstrate expected leadership traits, they are perceived as not likeable, and when women exhibit expected female traits, they are perceived as not leader-like, therefore the double bind). This shows up in me as feeling as if I have to constantly prove myself — demonstrate my worth — which is destructive because it lets others determine my value. I'm working on overcoming this by focusing on what I value and where the alignment is to the organization. And also by advocating for structural changes that mitigate the double bind. For instance, for several years Dr. Quinn Capers has been leading training on implicit bias, with positive outcomes.
When you think about serving in a leadership role as a female, do any unique experiences come to mind?
I am fortunate to have many amazing female friends with whom I can be completely myself. We are open, vulnerable, challenging and encouraging, which brings out the best in each of us. This is my framework for leadership. I want this for all women and try to create that same trusting, supportive environment in which we lift each other up at work.
What advice would you give to other women looking to reach similar goals?
Be true to yourself and take risks. If you know your values and have the best interests of the organization and the people you serve in mind when you make decisions, you will not go wrong.
What's next for you? Something you're looking forward to.
I will complete the executive leadership coach-in-training program from the Hudson Institute of Coaching in June. I am looking forward to using my coaching skills in service to the amazing faculty and staff of OSU.