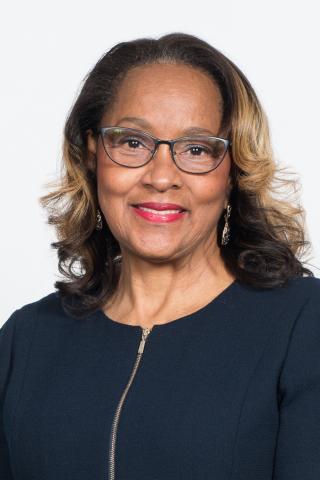 Director of Men's and Women's Track and Field/Cross Country
Department of Athletics
If you had to define a Glass Breaker in one word, what word would that be? And explain why you chose that word.
I would define Glass Breaker as splintering. I say splintering because you have to cut through some traditional norms at times and that takes courage, it takes aggression, and it just takes somebody that's willing to defy norms.
Describe your career path that has led to your current post.
My career began at Michigan State University as a student athlete. I won a national championship there in the 200 meters. The female administrator of the all-women's sport programs, including my grassroots track club, was Dr. Nell Jackson. Jim Bibbs was the men's track coach. When I graduated with an undergraduate degree, Dr. Jackson asked me to stay and work on my master's and help her coach the women's track and field program. I decided to do that.
My undergraduate degree was in agricultural economics and I really didn't have any interest in going into athletics, but she kept emphasizing the need for more women in the athletic arena. I got smitten by the role and coached there for 10 years. Then I spent 10 years at UNLV and when I came to Ohio State, it was because the industry was changing. Sport programs and track and field were becoming combined programs and I felt in order to have a leadership role in a combined program, I needed to have experience working with men as well as women. I was invited to come here and work as an assistant in the men's and women's track and field program, which is how I gained some experience there.
When Russ Rogers retired [the gentleman that hired me], I was hired as the women's track and field coach. Three years ago when the male coach went to Indiana, I talked to Gene Smith about the possibility of a dual directorship role. That's how I got where I am now. Gene hired me.
How would you describe your leadership style?
I'll talk about what I'm not — I'm not an autocrat and I don't micro-manage. My leadership style is one where I hire coaches that are skilled in the specific event areas, give them enough flexibility and autonomy to do their job while simultaneously helping them build their resume. I like to make sure that we have a collaborative environment among our whole coaching staff. I set philosophical parameters, program goals and make sure that everybody is on the same page while understanding that our primary goal is to make sure that we're educating our student athletes and making sure that they have the ability to get a first-class education while becoming Olympians if that is in fact their desire. I want everybody to win, I want our student athletes to win, I want my coaches to win, because if we don't win, then we don't have a job.
What were the best career investments you've made along the way?
The best career investment I made was to take a chance and go into athletics. From there, it's making sure I had some good colleagues and women in the industry that I could rely on and reach out to because I think any woman in a leadership role is going to encounter challenges. It's always good for me to have other people to talk to and network with.
Any mentors or champions who supported your professional development?
I'll start off with my mom and dad. They were my mentors and champions. They allowed me to spend time with athletics. The people that I previously mentioned, Dr. Jackson and Mr. Bibbs, were also champions. Gene Smith has been a champion because he took a chance on me. Only three percent of women in the entire track and field coaching industry have a dual coaching role. Three percent! He's certainly been a champion along with my immediate supervisor, TJ Shelton. Those people have championed my cause and allowed me to be successful in the role that I'm in.
How would you describe your career goals today and how have they changed over time?
In athletics, you're only as good as your last competition. The goal to win doesn't change. You have to put in the work and find a way to be successful with student athletes. Any time you're dealing with a population of 18-, 19-, 20-, and 21-year-olds, anything can change and most of the time, it does. I've had to change in order to meet student athletes where they are. I want to represent this great brand of The Ohio State University, I want to win and I want to have our student athletes experience success both in the classroom as well as on the track and field.
While change is the one constant in life, my career goals have not changed: I want to be successful, I want to win, I want my coaches to win. When we can do that, we all find success.
What kinds of challenges have you faced along the way, and how did you overcome them?
Some of the biggest challenges I've had is simply a lack of respect for women coaches. There are a lot of men who feel that I may have gotten my position because I'm a female or because I'm a minority female and that's really insulting to me. That's why it's so important for me to win, I really want to have them understand that my gender and my race is only part of me.
When you think about serving in a leadership role as a female, do any unique experiences come to mind?
What advice would you give to other women looking to reach similar goals?
Currently less than 20 percent of the administrators in collegiate athletics are women. I encourage them to go into administration because, in doing so, they have a better opportunity to hire more women.
The other thing I encourage women to do is say, "Let's have a sisterhood." Men do it all the time, men go out on the golf course or go have drinks and talk about hiring and what they need. Women have to have a sisterhood and I encourage the women in our program as well as women that are interested in being in a leadership role as a head coach or a director of a program to latch onto more females who are in the positions that you aspire to. Don't be afraid to ask questions. Don't be afraid to reach out. Networking is vital because when you are in a leadership role you still need support and that's where your champions are. Your network is where your friends in the profession are going to come in and advise when you encounter really challenging situations.
What's next for you? Something you're looking forward to.
I look forward to every weekend. This next weekend is national championships and so I'm looking forward to bringing home some All-Americans.