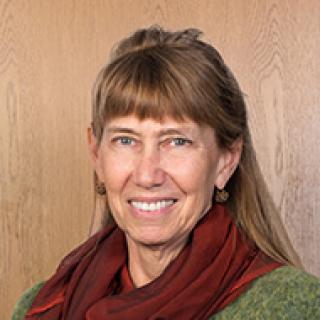 Professor
Knowlton School of Architecture
Describe your career path that has led to your current post.
As an undergraduate I did what I loved [majored in Fine Arts and Women's Studies] instead of what my dad wanted me to do, study engineering. It was enough that he thought I was capable. That led me to pursue advanced studies in architecture at Yale, where I received my Master of Architecture at the urging of my mentor, Ed Sovik. Upon graduation, realizing how much I had to learn, I bicycled and wandered through Europe, sketching from Scotland to Italy with artist and friend, Susan Farricielli. I was fortunate while traveling to land a job with a small architecture atelier in Florence. I later worked for a protégé of Eero Saarinen in Rome, where I stayed for a couple years and learned Italian. I discovered opportunities for cross cultural research and teaching in design, which brought me to Ohio State, where I began the Knowlton School's study abroad program in Rome. That was 32 years ago.
My research interests have evolved in two directions — Italian Modern architecture and design, and applied community based urban and architectural endeavors. Along this journey, I have discovered how much I love teaching, especially exposing adventurers of all ages to the great landscapes, villages, cities, arts and food of Italy.
How would you describe your leadership style?
The path from being a micro-manager to learning to lead from behind has been a bumpy one. But I was taught by a fellow cyclist the virtues of leading from behind. In cycling, the person in the lead takes headwinds and eventually drops back to watch out for the team. You can indicate direction and develop a clearer vision from the back of the pack where everyone is in view and their paths take shape. The objective for my kind of cyclists and designer is guided by the scenery and the ride rather than the competition to win. We fail or succeed together and everyone participates fully.
What were the best career investments you've made along the way?
 In a word, relationships. There have been many to whom I am uncountably grateful and without whom I would not have so enjoyed the ride. Other worthwhile investments included my Olympia camera, my grad school tuition, leaving the country, and coming back. Establishing research relationships with colleagues outside my school, and spending 15 years researching a book that led to my recent promotion have been good investments of my time.
Any mentors or champions who supported your professional development?
Countless. Undergraduate college mentors at St. Olaf College: Ed Sovik, Reidar Dittman, Dorothy Divers and Arch Leean; at Yale: Alec Purves and Paul Brouard; at Ohio State: Deb Ballam, Francille Firebaugh, Barbara Snyder, Karen Hollbrook, Bev Toomey, Hazel Morrow-Jones, Martha Garland, and Carolyn Merry. And although it sounds cliché, it must be said — no one has supported and inspired me more than my parents. My mom was sworn into the WACs by Eleanor Roosevelt and later taught cooking logistics to women across the country. She brought her military sense of order to her kitchen, garden and sewing room and gave new meaning to unconditional love and empowerment.
How would you describe your career goals today? How have they changed over time?
Today I'm a step closer to balancing professional ambitions with the lovely moments of everyday life — my lifelong quest. I enjoy the successes of my collaborators, students, and peers, and I continue learning from those I admire. I'm working on a current research project that finds lessons in mid-century modernism in the town of Ivrea, Italy — the project of Adriano Olivetti. I look forward to it taking the form of a book and an exhibit, and perhaps my involvement in a long-term revitalization project. My design and publication goals have become more intrinsic with clearer objectives than when I arrived as a junior faculty member, while my ambitions for a healthy, creative, inclusive school are seasoned and persistent. I'm more focused on what my students will build, and that their constructs will be sustainable and beautiful.
What kinds of challenges have you faced along the way, and how did you overcome them?
Maybe knowing myself in foreign places has been my greatest challenge. Finding like-minded creative individuals and opportunities to focus my energies and talents has required some risk-taking and asking for help. I've never regretted getting involved with people and projects outside my school, and the years of colleagueship formed through working to establish The Women's Place at Ohio State have been stabilizing and empowering.
When you think about serving in a leadership role as a female, do any unique experiences come to mind?
What advice would you give to other women looking to reach similar goals?
Seek out mentors and build your community. Architecture is a social field that depends upon several economic sectors, clients, carving out time for your favorite part of the design process, indulging yourself in lifelong exposure to novel and beautiful things. The absorption of time as we acquire families, mortgages, titles and things can pull one from the greatest pleasures of our interests. Take time for yourself.
What's next for you? Something you're looking forward to.
Hiking in the Rockies with our son in May and kayaking at our Minnesota lake home.