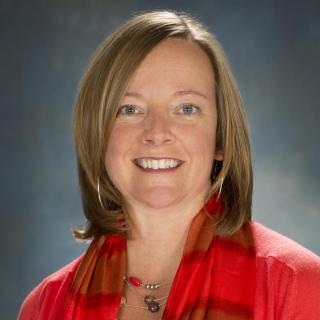 Senior Director of Graduate Career Management
Fisher College of Business
Describe your career path that has led to your current post.
My career path has involved a very purposeful pursuit of a career in higher education administration. Very early on, my career focus was not as clear (particularly after considering and pursuing several majors as an undergraduate student); but once I discovered that student affairs and student services were both represented within a graduate degree program called College Student Personnel, I was hooked! I graduated from Central Michigan University with undergraduate degree focus areas in sociology and psychology and then earned my master's degree in Higher Education Administration/College Student Personnel from Ohio State. I designed a program focus that allowed me to develop deeper expertise in the areas of career planning and career development which provided a strong foundation on which to build a successful career as a career consultant and career coach supporting both undergraduate and graduate-level students. After graduate school, I spent five years at a small propriety school, and I've been at the Fisher College of Business in progressively responsible positions for 20 years.
I have received promotions at the Fisher College of Business by seeking out opportunities, continuing to develop myself professionally, and being open to new roles and responsibilities along the way. My position has never really been the same year-after-year because I work with different student populations and different students. I started my career with a passion for working with undergraduate students specifically, and an opportunity surfaced to work with Master of Business Administration students. I've been working in this capacity for several years.
Working with students has been one dimension of my career that has expanded over the years to include programming, project management, leadership, supervision, budgeting and planning, as well as strategy work related to graduate business students. Working with MBAs and allowing my career to evolve somewhat organically in this space has proven to be a perfect fit for me. In addition to my formal role at the university, I've been able to stay fresh, active, relevant and engaged by purposefully pursuing leadership roles in the MBA Career Services and Employer Alliance organization and other university, college and community groups. These experiences have complemented my 20 years at the university, making me an even more productive, effective and engaged professional.
How would you describe your leadership style?
I believe I'm both a facilitative and inclusive leader. My goal every day is to be present and available to facilitate my team's success. This often takes the form of having informal, daily, touch-base conversations, discussing important projects during more formal meetings, answering questions to clarify goals/objectives and/or expectations, and doing my best to create a coaching environment of respect, trust, transparency, professionalism, engagement, learning and continuous improvement. In terms of being an inclusive leader, I very much believe in supporting my team and making them feel valued for the unique talents they bring. From my perspective, when a team member is truly valued and included, they are even more effective team players and even more likely to go above and beyond, which can lead to the generation of new ideas and ways of getting work done and creating opportunities to positively impact morale and overall team performance. Inclusivity, facilitation, support and actively working alongside my team are all themes of my leadership style.
What were the best career investments you've made along the way?
I would say my best career investments include earning my master's degree at Ohio State and getting involved throughout the years in university leadership positions. These positions have allowed me to have an outlet for my ongoing passion for issues related to gender equity in the workplace, women's career progression/advancement, culture and collaboration, work-life integration, child care, staff advocacy, and community outreach and engagement. I've held leadership roles in a variety of organizations, including the President and Provost's Council on Women, the Association of Staff and Faculty Women, the University Career Services Committee and the University Staff Advisory Committee. I've also been actively involved in Women for Economic and Leadership Development, the Forte Foundation and the HERS Women's Leadership Institute.
I've taken the time to invest in and support the career success of others throughout my time at the university. In addition to establishing and/or being actively involved in programs that support mentoring, career coaching and/or programming for others, I've done my best to make myself available to help support others who need a trustworthy listening ear as it relates to their career direction, focus or next steps. Investing in and supporting others has been important to me throughout my career. I believe individual support is, in some small way, an opportunity to positively influence others and the university's overarching culture.
Continuing to invest in my career, education and professional development after having children has been an important decision for me. Choosing to work, or not to work, after having children can be a difficult decision, and I strongly believe that every mother should be able to make this decision without judgement from others. For me, being a working mother and raising my daughters has proven to be the right decision for me and my family. It has been a decision that has allowed me to continue to invest in myself professionally while investing in them — and hopefully being a role model of leadership, independence, professionalism and engagement with purposeful emphasis on women's issues and gender equality.
Any mentors or champions who supported your professional development?
The first person who comes to mind who has provided unwavering support of my professional development has been my husband. I have had many interests over the years that have drawn me to pursue leadership roles, projects, committee assignments or initiatives that have involved travel, time away from family, and/or working in the evenings and/or weekends. Every time I have considered new or additional roles or opportunities, my husband has consistently been a positive influence, supporter and champion. In addition, my supervisor has provided me with the support, encouragement and flexibility to pursue leadership opportunities both at Fisher and throughout the university. With his support, I've had the most amazing, unique and interesting professional development opportunities that have enriched my time at the university and have allowed me to give back to the university and Fisher College of Business as well.
I also want to mention Deb Ballam, who was one of the amazing directors of The Women's Place. I've always appreciated Deb's support, encouragement, advice and guidance. She is an amazing role model and one of my most important mentors and champions at the university. Tom Gregoire, dean of the College of Social Work, and Lisa Durham, assistant dean in the College of Social Work, have been wonderful mentors and partners as well.
How would you describe your career goals today? How have they changed over time?
This question is very timely, as I'm very much in the process of re-evaluating my career goals as they relate to this next phase of my journey. I recently attended an outstanding program entitled "Seasons of a Woman's Life; Feminine Archetypes to Guide the Journey," presented by Kathy Cleveland Bull at a WELD conference. It was a fascinating presentation and discussion regarding the different phases of life for women and the archetypes (names we give to human patterns that we can relate to or otherwise be affected by) that we may connect with more than others. So, as we all are, I'm moving through the phases of life (I'm squarely in the "queen" phase based on this presentation), which tends to prompt re-evaluation. Career goals are certainly a part of this thought process. My goals remain the same in some ways, but are shifting to thoughts of how to best leverage years of work experience, relationships and success to continue to have a larger scale impact on the university and the community in meaningful ways.
What kinds of challenges have you faced along the way, and how did you overcome them?
One of the biggest challenges I've had in my career has been developing my leadership style within a work environment and culture that promotes, encourages and rewards what could be considered the more traditional, hierarchical, directive, dominant, ego-driven style. My leadership style has always been less reliant on ego, arrogance and directives, and more focused on collaboration, consensus-building, compassion and relationship building. I believe I overcame this challenge of finding my voice and developing my style by seeking out opportunities to be in leadership roles (testing what works and doesn't work for me), working proactively with others, and learning from and observing other successful leaders who value people and provide an environment of support, genuine/authentic relationships and respect.
When you think about serving in a leadership role as a female, do any unique experiences come to mind?
When I hear this question I think of the lessons I have learned being a female leader in an environment where there are mostly male decision makers. I would encourage women to be bold regarding salary negotiations, self-promotion and asking for what they want related to their career, career advancement and important projects and to be visible to a variety of people throughout an organization. Taking charge of your career means (in addition to establishing yourself, doing a great job and producing the appropriate results) promoting your results, your value, your projects and your ideas to several people outside the scope of the established hierarchy.
Being bold in this way does not mean you are arrogant and it certainly doesn't mean you are being selfish — it means you are taking charge, being strategic and taking purposeful action regarding your life, your direction and your career. Unique experience as a female leader comes with the double-standard of leading (but not too strong), self-promoting (but not too much), self-advocating (but not too directly). I would encourage female leaders to be collaborative team players while ignoring the voices in your head that you are being selfish if you put yourself first in select situations.
I've told my daughters as they played sports throughout the years that being an effective, collaborative team player is so important not only in sports but in life as well. It is also okay, in sports and in life, to be what might be considered selfish by actively advocating on your behalf, showcasing your talents and skills and leveraging opportunities for self-promotion. As a female leader, embrace opportunities for self-promotion and self-advocacy. Otherwise, your unique contributions, skill set, accomplishments and passion may be overlooked.
What advice would you give to other women looking to reach similar goals?
Trust your instincts and your intuition, be confident, don't be afraid to take risks, speak up, trust your voice, manage your career and be your own best advocate. Treat others with kindness, respect and professionalism along the way. And remember that even though your career is an integral part of your life, always maintain space and time for those other things you are most passionate about in your personal life.
What's next for you? Something you're looking forward to.
Over the last few years, I've been focusing even more on my health and wellness goals, which have included meeting with a nutritionist, strength training, toning classes and Zumba. I'm looking forward to adding to this exercise regimen even more when the timing is right. I also look forward to continuing to support my older daughter in any way I can as she continues her college career at Ohio State, her involvement with the Wellness Scholars Program, the STEP Program, and the Tri-Delta Sorority. I'll also support my younger daughter in any way that I can as she continues to be active as a high school student and athlete running cross country and playing basketball and her favorite sport of lacrosse. I look forward to seeing them continue to grow and develop as young women and finding what this next phase of life will bring for me and my husband. Even though we love Ohio …, more time at the ocean is sounding better and better every day!