Congratulations to The Women's Place Staff Leadership Series 2019-20 cohort for completing the series in August and the 2020-21 cohort for being selected to start the next series in September.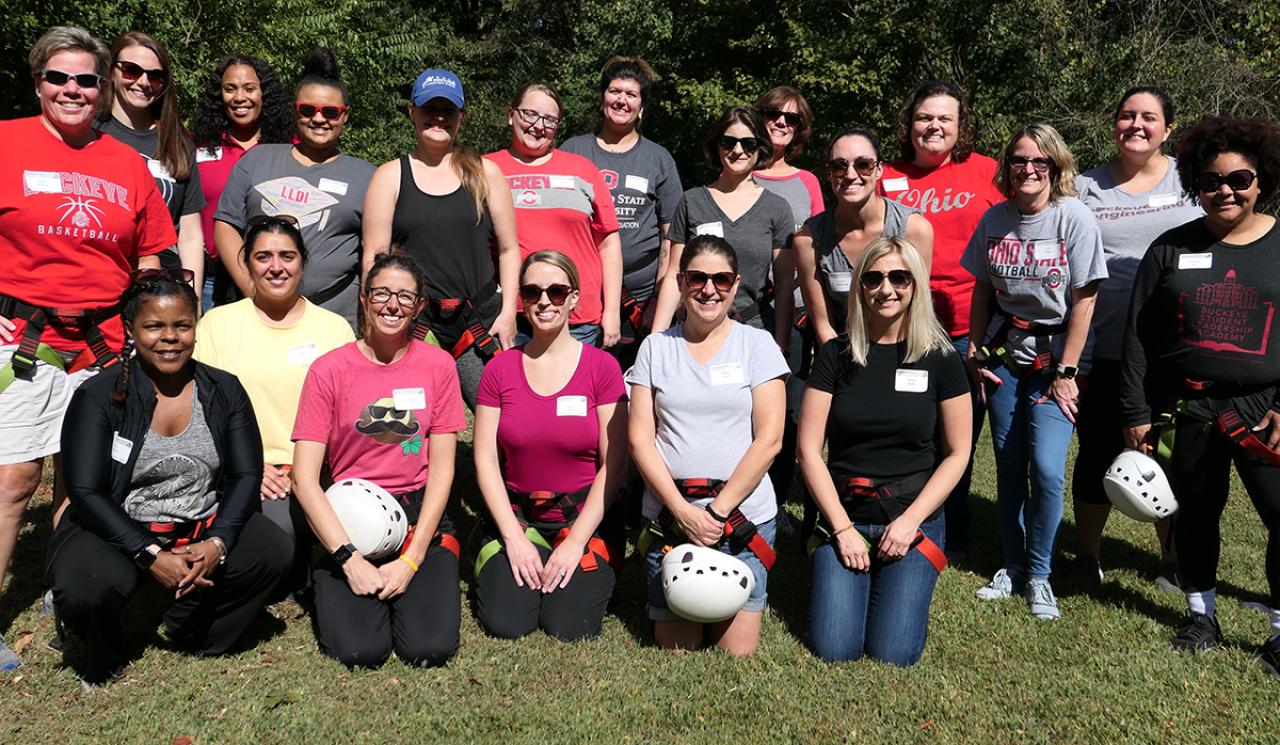 Ohio State University staff are working hard to advance their leadership skills. The list of staff below who have participated in the 2019-20 cohort of The Women's Place Staff Leadership Series (SLS) are better prepared to advance and take on new leadership roles and responsibilities. The list of staff who were selected through a competitive application for the 2020-21 cohort are excited to begin the next year of leadership training.
The SLS is a 12-month, experiential program that enhances leadership capacity and facilitates skills development to help staff become more effective, innovative and inclusive leaders. It creates a pool of potential staff leaders from groups that have been traditionally underrepresented in key leadership roles.
SLS graduates are equipped with relevant skills for the following:
Leveraging personal strengths of self and others for effective leadership
Relating to people and conducting difficult conversations
Coaching peers and direct reports effectively using multiple techniques
Strategizing to successfully deal with interpersonal and environmental demands
Leading teams through change and crisis
Cultivating an inclusive environment in which diversity is valued
Conducting inclusive conversations, building effective teams, and solving problems
These leaders are now uniquely qualified for higher education administration at Ohio State and to cultivate a more equitable environment, a culture in which all can thrive.
Through the SLS, the university has greater access to leaders who bring diverse ideas and perspectives, enthusiasm, and ingenuity to their work environments. Please consider these trained and motivated staff, along with previous graduates, for leadership positions in your units and colleges.
2019-20 Staff Leadership Series Graduates
Name

      

Title and Department/Unit

Sue Beck

 

Senior Systems Consultant, Ohio State University
Libraries, Information Technology

Tina Bogac

 

Senior Director, Office of Environmental Health & Safety

Ana Casado

 

Graduate Program Coordinator & Grants Coordinator,
College of Engineering, Department of Engineering
Education

Kelly Crawford

 

Director and SFO, College of Education & Human Ecology,
Office of Finance & Business Services

Holly Davis

 

Psychologist , Office of Student Life, Counseling and
Consultation Service

Alexis Duffy

 

ALX Projects Coordinator, Office of Distance Education
and eLearning

Jennifer Fry

 

Director of Enrollment Services, Ohio State Mansfield,
Enrollment Services

Carly Grimshaw

 

Associate Athletic Director of Compliance, Ohio State
Athletic Department

Cara Harris

 

Doctor of Nursing Practice, Nurse Practioner, Certified
Diabetes Educator, Division of Endocrinology, Diabetes
and Metabolism, Lead Advanced Practice Provider East
Hospital

Nadia Howard

 

Program and Communications Manager, Mechanical and
Aerospace Engineering

Alice Hutzel-Bateson

 

Communications-Marketing Coordinator, Alber Enterprise
Center, OSU Marion, OSU Extension

Gina Jaquet (Hnytka)

 

Director of Education and Learning, Sustainability Institute,
Office of Academic Affairs

Khadijah Jones

 

Associate Director, Access and Diversity, Undergraduate
Admissions, Office of Student Academic Success

Diane Kanney

 

Director of Enrollment, OSU Newark, Admissions Office

Lauren Lopez

 

Program Manager, Dr. James L. Moore III Scholars
Program, Office of Diversity and Inclusion

Jenn Perkins

 

Customer Engagement Specialist, University
Advancement, Engagement Services

Debbie Pond

 

Program Manager, College of Medicine, Faculty Affairs,
The Center for FAME

Elaine Pritchard

 

Executive Assistant, University Libraries, Office of the Vice
Provost and Director

Becca Roby

 

Assistant Director of Student Affairs, College of Optometry,
Office of Student Services

Nidhi Sharma

 

Research Analytics Specialist, Comprehensive Cancer
Center

Kelly Sitz

 

Relationship Manager/Executive Assistant, Office of
Research, Industry Liaison Office

Liz Trolli

 

Program Manager, College of Pharmacy, Institutional
Health-System Experiential Program

Ashley Van Hesteren

 

Program Assistant, OSU Wooster, Office of Diversity and
Inslusion, Upward Bound

Nicki Verbeck

 

Research Specialist, College of Medicine, Office of
Curriculum and Scholarship
2020-21 Staff Leadership Series Cohort
Name

      

Title and Department/Unit

Taletha Askew

 

Advanced Practice Professional Lead, Professional
Practice

Caitlin Brendel

 

Faculty Affairs Specialist, ASC Administration

Kathleen Clemons-
Keller

 

Diversity & Inclusion program coordinator, The Office of
Student Life/Diversity & Inclusion

Sheila Craft-Morgan

 

Senior Resource Planning Analyst, Institutional Research
and Planning

Janet Dettorre

 

Hematology and Medical Oncology Fellowship Program
Coordinator, Hematology

Aparna Dial

 

Senior Director, Sustainability and Strategic Services,
Facilities Operations and Development

Paris Gordon

 

Registered Nurse, East Post Anesthesia Care Unit

Judy Kariuki

 

Clinical Nurse Specialist, Medical-Surgical Nursing
Department

Katie Klakos

 

Director of Field Education, College of Social Work

Traci Lewis

 

Program Director, Office of Diversity and Inclusion

Monica Lichi

 

Director- A4, Physical Medicine & Rehabilitation

Kimberly Lowe
McCalla

 

Director for External Engagement, Alumni Affairs, and
Special Events, Advancement

Suzanne Mikos

 

Administrative Associate 2, Geography and Center for
Urban and Regional Analysis

Estephanie Ortiz

 

Program Coordinator, Center for Languages, Literatures
and Cultures

Kaamilya Reddens

 

Lead Nurse Practitioner, Internal Medicine, Medical
Oncology

Dee Dee Snyder

 

Program Manager, Program Excel, ATI/CFAES

Sherine Tambyraja

 

Senior Research Specialist, Crane Center for Early
Childhood Research and Policy (College of Education and
Human Ecology)

Karen VanEtten
(Thatcher)

 

Staff Physical Therapist, Sports Medicine Rehab

Lauren Todd

 

Program Assistant, College of Nursing Clinical Placement

Jill Toft

 

Executive Assistant to the Vice Provost, The Office of
International Affairs

Elizabeth ("Emy")
Trende

 

Managing Attorney, Office of Legal Affairs

Rachel Tuttle

 

Humanitarian Engineering Scholars Program Manager &
Academic Advisor , Engineering Academic Success and
Engagement

Barbara Urbanczyk

 

Interim Assistant Director, Clinical Services, Counseling
and Consultation Service

Danae Wolfe

 

Educational Technology Specialist, Extension Learning
and Organizational Development