Envisioning a university which supports all women to thrive, advance and make their full contributions.
Program Overview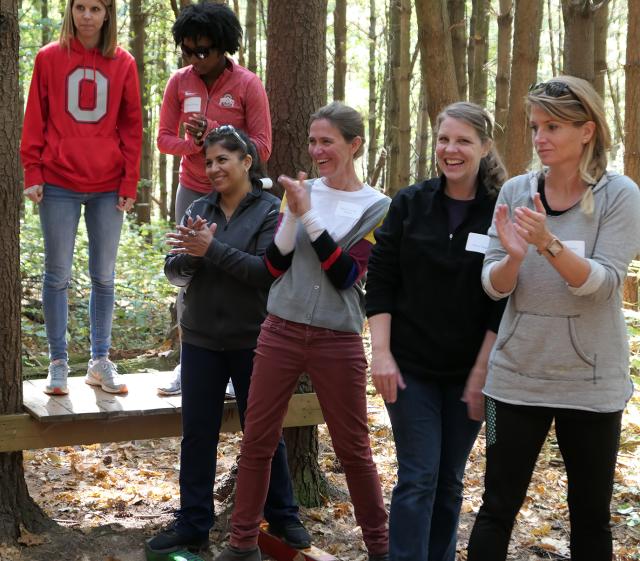 The Women's Place (TWP) is committed to expanding opportunities for women and underrepresented groups' growth, leadership, and power at the university. With this goal informing our efforts, TWP sponsors the Staff Leadership Series (SLS). This year-long initiative emphasizes leadership skills enhancement and personal and professional development for university staff members. Participants meet monthly for instruction from guest facilitators, group discussions, and self-reflection/discovery informed by leadership and learning theory.
We strive to represent the university community's diversity in the series and encourage all who fit the criteria and people of all genders and identities to apply.
Program Goals:
To enhance participants' inclusive leadership capacity
To cultivate supportive professional networks
To create a pool of potential staff leaders from groups that have been traditionally underrepresented in key leadership roles
Selection
SLS accepts a maximum of 22 participants each year who have, within their respective units, shown leadership aptitude and interest.
Participants will be selected based on the following criteria:
Demonstrated leadership ability
A minimum of 2 years employment at Ohio State
Representation of the university community's diversity, including regional campus representation
Ability to reflect on their current career and their professional development goals
Participant Commitments
Participants meet monthly from September 2018 – August 2019 for instruction from guest facilitators, group discussions, and self-reflection/discovery. The monthly time commitment is 4.5 hours, not including the orientation or homework.  
SLS sessions are tentatively scheduled for the second Tuesday of each month, with the exception of the orientation retreat and the closing celebration:
September, 2018: Orientation Retreat
October 9, 2018
November 13, 2018
December 11, 2018
January 8, 2019
February 12, 2019
March 12, 2019
April 9, 2019
May 14, 2019
June 11, 2019
July 9, 2019
August 2019: Celebration
Additional tasks and meetings at varying times
Participants are expected to commit to all of the following:
A full day retreat in September addressing culture principles, teambuilding, and an orientation to the SLS
Monthly workshops and gatherings (4.5 hours each) from September - July
A closing celebration in August 2019
Small homework assignments as needed to prepare for workshops
$750 contribution from your department to help defray program expenses (actual cost per participant is higher)*
*If you are a manager, you are eligible to apply for Human Resources' Staff Manager Development Grant to pay for the SLS.
How to Apply (Deadline: June 29, 2018 by 4:59 pm)
Complete the Online Application: Please have a current resume or career outline ready to upload to the online application. Important note: We encourage you to preview the online application and prepare your essay responses prior to completing the application — you cannot save an incomplete application and return to complete it. You must input all the required information in one sitting; your information will only be saved when you click on the final submit button. (Application link below)
Department/Unit Support: For successful completion of The Women's Place Staff Leadership Series, participants are expected to attend all workshop sessions and activities and have their departmental/unit supervisors' support for these commitments. Participants' units will be responsible for the $750 contribution. (Note: If you are a manager, you're eligible to apply for Human Resources' Staff Manager Development Grant to pay for the SLS.)
Two Letters of Recommendation:
1. One letter of recommendation from the individual to whom you report
2. One letter from an individual you choose
The letters should address the applicant's leadership skills and abilities, accomplishments, and potential for professional growth. Each letter must be submitted by the nominator/recommender, not the applicant. Have your nominators/recommenders submit their letters online (see link below).
Application deadline: All applications, letters of recommendation, and resumes must be received by 4:59pm June 29, 2018. Applicants will be notified of their selection to the program no later than August 3, 2018. (Note: Application materials are available to The Women's Place only and are otherwise kept confidential.)
If you have questions regarding the leadership series or application process, contact Sara Childers, assistant director, at childers.23@osu.edu.