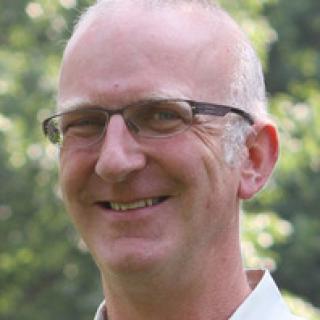 Professor and Chair, Department of Microbiology
Why did you want to become an advocate? What drew you to this initiative?
I feel that both in my discipline and in the academy, while we have come a long way since I was an undergraduate over 30 years ago, we are still a long way from achieving true gender equity. I was drawn to this initiative because it was supported by The Women's Place, and in particular because Hazel [Morrow-Jones, the former director of The Women's Place] was very enthusiastic about it.
How has learning about male privilege and educating other men about male privilege changed you?
I've learned a lot about the extent of male privilege and what it really means, which has been humbling because when I started I thought I was better informed than I actually was. This increased awareness has made me consider my daily interactions and actions more carefully and has, I hope, made me an effective and proactive advocate for gender equity.
How do you bring what you learned back to your colleagues? How has being an advocate changed the way you interact with men and women at Ohio State?
I frequently discuss gender and other implicit biases in my professional environment with my colleagues, and we engage in activities and promote practices that try to address these issues. I also actively promote the necessity to address biases and inequities to my colleagues as an essential component of advancing excellence.
How has your involvement had a "ripple effect" on your department?
Some members of my department have become Advocates, others are directing informal trainings in their research groups, and there are plans to expand training to all members of our department, including students.
Also, conversations have started on the issues we still need to address in the department, and my hope as chair is that women can now speak and their voices will be heard.
What kinds of changes, small or big, have you noticed in your unit since conducting the facilitation?
Small changes: We're moving past the phase where men simply say "not me," seeking to absolve themselves of blame, and instead ask what they can do.
Big changes: That will be for the women in my unit to judge.
What impact do you think this program will have long term on the culture and climate of Ohio State?
I think it will be incredibly important as a means to advance gender equity at OSU. More broadly, it is also proving to be an incredibly effective means to also address broader issues of implicit bias at OSU.
What can men do to continue to be advocates and allies for equity?
Keep talking to each other about the issues and challenges we face; continue to engage in ongoing training activities; and seek guidance from The Women's Place on how to be the most effective advocates we can be and how best to engage women in our units in the process.